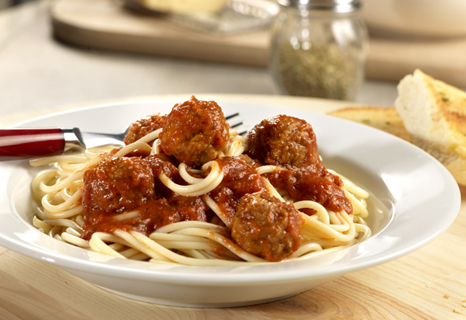 For some reason it seemed like my kids were the only ones that didn't like the spaghetti and meat sauce dinner that I grew up with. I tried to to change it without meat and a different kind of sauce but, they still didn't like it.
Well, one day I decided I was in the mood for some spaghetti and meatballs. So, I made it for dinner expecting my kids to hate it and refuse to eat it. However, to my surprise they loved it! They even ask me to make it "every day" but, I'll stick to once every week or so. So here's my simple recipe for spaghetti and homemade meatballs:
Ingredients
ground chuck hamburger meat

1 egg

Italian seasoned bread crumbs

Italian seasoning

garlic salt

pepper

spaghetti (cooked and drained)
Directions
Put hamburger and egg into a bowl. Fold the egg into the hamburger with your hands.

Add bread crumbs and spices to taste and mix into meat.

Form equally sized meatballs with hands by rolling gently. Then put aside on a sheet of wax paper. Spray deep non-stick frying pan with non-stick spray and add desired amount of meatballs. *Keep extras on wax paper for freezing.

Cook on medium to medium-high heat uncovered. Be sure to turn frequently to cook thoroughly.

Once meatballs are cooked, add Prego sauce. Lower heat to low/medium-low and continue to cook for 10 more minutes.

Pour meatballs and Prego sauce over spaghetti and serve.
Tips
I like to serve it with garlic bread and green beans.

Do not press firmly when making the meatballs or they will not cook evenly.

Flash freeze extra meatballs on wax paper lined cookie sheet for 10 minutes. Transfer to freezer bags to enjoy this meal again with less work. Just thaw in the refrigerator the night before cooking.